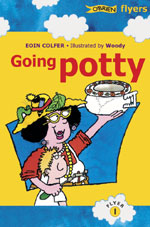 Ed Cooper's a senior infant now and that means using the big boys' toilet. Ed needs 'to go' but he just can't. The big white toilet is very different to the junior infants' loo– with no lock on the door and goodness knows what hiding 'down there'! What can Ed do? He can't hold on forever. Maybe, just maybe, there's a way out — Gran's potty. Gran's potty is no ordinary potty but can it help save the day?
This book by Eoin Colfer is aimed at younger pupils. This document for the teacher contains suggestions on how to use the book as a cross-curricular resource in the First Class classroom. There is also a discovery challenge for the pupils to complete.
Teacher's Guide – Ideas for using the book in the classroom(.pdf file 65KB)
Discovery Challenge – Explore your own family history (.pdf file 37KB)
These resources have been made available to Seomra Ranga with the kind permission of the O' Brien Press. (www.obrien.ie/) O' Brien Press retains the copyright of the resources.