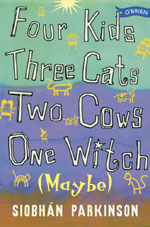 Beverley, a bit of a snob, cooks up a plot to visit the island off the coast. She manages to convince the somewhat cautious Elizabeth and her slob of a brother, Gerard, to come along. A surprise companion is Kevin, the cool guy who works in the local shop. This motley crew must find ways to support each other and put up with one another's shortcomings, when they become stranded on the island and encounter a strange inhabitant.
This book by Children's Laureate Siobhán Parkinson is aimed at pupils in senior classes. These documents for the teacher contain suggestions on how to use the book as a cross-curricular resource in the Fifth Class classroom.
Teaching Guide  (.pdf file 316KB)
Teaching Ideas (.pdf file 76KB)
These resources have been made available to Seomra Ranga with the kind permission of the O' Brien Press. (www.obrien.ie/) O' Brien Press retains the copyright of the resources.