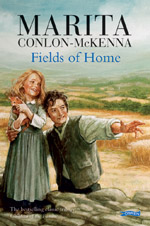 This is the final book in the famine trilogy. For Eily, Michael and Peggy the memory of the famine is still strong. But Mary-Brigid, Eily's first child, has the future to look forward to. What kind of future is it? Ireland is in turmoil, with evictions, burnings, secret meetings, fights over land. Eily and her family may be thrown off their farm. Michael may lose his job in the big house. And Peggy, in America, feels trapped in her role as a maid. Will they ever have land and a home they can call their own? Eily, Michael and Peggy have once shown great courage. Now this courage is called on again …
This book by Marita Conlon Mc Kenna is aimed at pupils in senior classes. These documents for the teacher contain suggestions on how to use the book as a cross-curricular resource in the Sixth Class classroom.
(.pdf file 131KB)
These resources have been made available to Seomra Ranga with the kind permission of the O' Brien Press. (www.obrien.ie/) O' Brien Press retains the copyright of the resources.