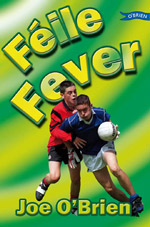 Danny Wilde and his teammates are finding the Under-14s Division tough going. They've lost one of their best goal-scorers to injury and it looks like they'll have no chance of winning the County Féile! Could Todd, the new Australian kid, be the answer to their prayers? Todd's an Aussie Rules player – tough and skilful – but can he become a real GAA player in time?
This book by Joe O' Brien is aimed at pupils in senior classes. There is a document for the teacher containing suggestions on how to use the book as a cross-curricular resource in the Fifth / Sixth Class classroom. There are also worksheets for the pupils to complete.
Teaching Guide  – ideas on how to use the book in the classroom (.pdf file 70KB)
Worksheet 1 – The Three Texts (.pdf file 46KB)
Worksheet 2– A Visit to Croke Park (.pdf file 91KB)
Worksheet 3 – Jimmy Says, Creative Writing (.pdf file 46KB)
Worksheet 4 – Did You Need to Know? Creative Writing (.pdf file 45KB)
Worksheet 5 – The Sports Page (.pdf file 46KB)
Worksheet 6 – The Sportswriter's Manager of the Month (.pdf file 50KB)
These resources have been made available to Seomra Ranga with the kind permission of the O' Brien Press. (www.obrien.ie/) O' Brien Press retains the copyright of the resources.