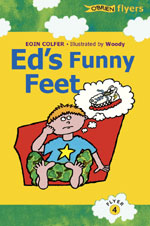 Ed Cooper has a problem with his big toes. The doctor says Ed needs 'correction shoes'. Disaster! Everybody will laugh at him. Ed uses every trick he can think of not to wear the shoes. He even tries DIY foot-straighteners! But it's no use. The shoes arrive. Ed opens the box, and the shoes are not as bad as he'd thought. They're worse!
This book by Eoin Colfer is aimed at younger pupils. This document for the teacher contains suggestions on how to use the book as a cross-curricular resource in the Second Class classroom. There is also a discovery challenge for the pupils to complete.
Teacher's Guide – Ideas for using the book in the classroom(.pdf file 52KB)
Discovery Challenge – Find out all about feet and shoes (.pdf file 38KB)
These resources have been made available to Seomra Ranga with the kind permission of the O' Brien Press. (www.obrien.ie/) O' Brien Press retains the copyright of the resources.