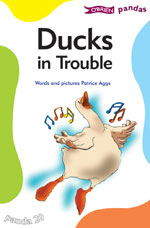 On the farm, some very strange noises are keeping the farmer awake. The ducks are having fun singing and banging 'instruments'– what a racket! But their noise is keeping someone else awake too, wily Mr Fox. There's trouble on the way …
This book by Patrice Aggs is aimed at younger pupils. These handouts/worksheets are for pupils in the First Class classroom.
Worksheet 1 – Suggested ways to make your own music (.pdf file 391KB)
Worksheet 2 – Help Pintail to find the clothes and instruments he needs to be a real musician (.pdf file 971KB)
These resources have been made available to Seomra Ranga with the kind permission of the O' Brien Press. (www.obrien.ie/) O' Brien Press retains the copyright of the resources.