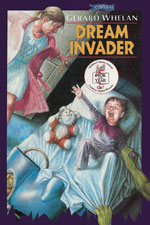 When Saskia goes to stay with her uncle and aunt she finds them worried about her little cousin Simon, who is having terrible dreams. Something strange is definitely going on and it seems to be centred on Simon's car-shaped bed that once belonged to another little boy. Then an old woman enters the scene. The forces of good and evil fight for control over the child while Saskia watches the horrible events unfold.
This book by Gerard Whelan is aimed at pupils in senior classes. This document for the teacher contains suggestions on how to use the book as a cross-curricular resource in the Fifth / Sixth Class classroom.
(.pdf file 113KB)
This resource has been made available to Seomra Ranga with the kind permission of the O' Brien Press. (www.obrien.ie/) O' Brien Press retains the copyright of the resource.