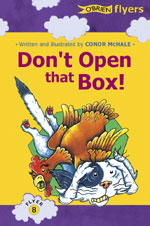 Two boxes — one large, one small — arrive for Granny Lambert. But wily Belzoni, her cat, sees the note printed on the small box that reads: Don't Open that Box, Open this one first! Unfortunately Granny doesn't notice the sign and opens the big box. Out jumps a crocodile, and snap, snap, snap, Granny is gone. And Belzoni is next on the menu. Suddenly out of the box jumps a chicken, and with her help Belzoni soon gets to grips with the hungry croc.
This book by Conor Mc Hale is aimed at younger pupils. This document for the teacher contains suggestions on how to use the book as a cross-curricular resource in the First / Second Class classroom. There is also a discovery challenge for the pupils to complete.
Teacher's Guide – Ideas for using the book in the classroom(.pdf file 34KB)
Discovery Challenge – Ideas to explore the world of newspapers, Greek myth and crocodile construction (.pdf file 39KB)
These resources have been made available to Seomra Ranga with the kind permission of the O' Brien Press. (www.obrien.ie/) O' Brien Press retains the copyright of the resources.