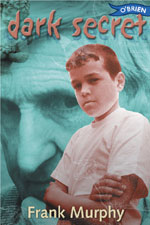 Davy's mother is dead. Davy's father is so wrapped up in his own grief that he can no longer care for his son. For Davy, his world has been turned upside-down, he no longer recognises his father and feels lost and lonely in a way he has never experienced before. Then he is sent to live with his grandfather, Batt Quilty. Batt is a shepherd in a remote valley in Kerry. He is a difficult man to live with. But there is more to Batt than meets the eye: his life seems to be lived under the shadow of the past. What is he hiding in the chest under his bed? Why do the townspeople seem to fear him? And what is Davy to make of the rumours about the dark secret that lies deep in the valley. Batt is connected in some way — but how much should Davy believe of what he hears, and can he trust Batt when the word 'murder' whispers through the valley?
This book by Frank Murphy is aimed at pupils in senior classes. This document for the teacher contains suggestions on how to use the book as a cross-curricular resource in the Sixth Class classroom.
(.pdf file 37KB)
This resource has been made available to Seomra Ranga with the kind permission of the O' Brien Press. (www.obrien.ie/) O' Brien Press retains the copyright of the resource.