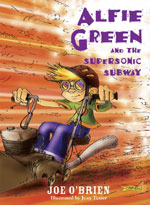 When the Emerald Cactus in the Desert of Doom explodes, Budsville is covered in sparkling green sand … Soon the evil Desert Elves will arrive on their Scorpion Chariots. How can Alfie stop them? A very special lawnmower hidden in a secret subway under Grandad's shed might do the trick – and it might help Alfie and Fitzer in the go-kart race, too!
This book by Joe O' Brien is aimed at younger pupils. These worksheets are for use by the pupils as a resource in the Second Class classroom.
Worksheet 1 – Wordsearch (.pdf file 36KB)
Worksheet 2 – Buried Treasures (.pdf file 60KB)
Worksheet 3 – My Favourite Memory (.pdf file 61KB)
These resources have been made available to Seomra Ranga with the kind permission of the O' Brien Press. (www.obrien.ie/) O' Brien Press retains the copyright of the resources.