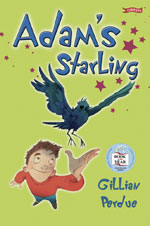 Adam's Starling tells the story of a nine year old boy who is finding life difficult. At home, no-one has any time for him. At school things are even worse – a gang of bullies has singled Adam out for punishment. Life is becoming increasingly difficult for Adam. But then a scruffy little starling comes into Adam's life. This is Adam's secret, his own special friend. But can Adam's defend his small friend against the bullies? Will he find the courage he has needed all along?
This book by Gillian Perdue is aimed at pupils in middle classes. There is a document for the teacher containing suggestions on how to use the book as a cross-curricular resource in the Third Class classroom. There are also activity sheets for the pupils to complete.
Teacher's Guide – Ideas on how to use the book in the classroom (.pdf file 34KB)
Activity Sheet 1 – Looking After Birds (.pdf file 110KB)
Activity Sheet 2 – Identifying Birds (.pdf file 109KB)
Activity Sheet 3 – Feelings and Emotions (.pdf file 109KB)
These resources have been made available to Seomra Ranga with the kind permission of the O' Brien Press. (www.obrien.ie/) O' Brien Press retains the copyright of the resources.