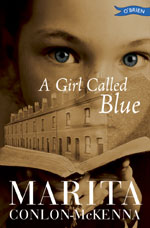 Larch Hill is the only home Blue knows. She arrived there just a few days old, wrapped in a blue blanket. Her one hope is to find her mother or father and have a family of her own. Fostered out several times, Blue finds it difficult to fit in. Is there no one out there who really wants her? No one who can really love her? Blue must put up with the orphanage, with the distant and strict care of the nuns. She does have her friends, Mary and Jessie and Molly and Lil, but they're not family. They're not enough. In her heart, Blue is desperate to find out who she really is. The closed file in stern Sister Regina's office holds the secret of her identity. And that is forbidden territory …
This book by Marita Conlon Mc Kenna is aimed at pupils in senior classes. This document for the teacher contains suggestions on how to use the book as a cross-curricular resource in the Sixth Class classroom.
(.pdf file 125KB)
This resource has been made available to Seomra Ranga with the kind permission of the O' Brien Press. (www.obrien.ie/) O' Brien Press retains the copyright of the resource.