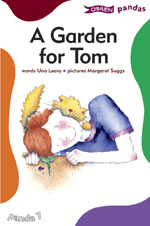 Tom would love to have his very own garden and Dad arranges it for him. But Tom is impatient. Things are not growing fast enough for him …
This book by Una Leavy is aimed at younger pupils. This document for the teacher contains suggestions on how to use the book as a cross-curricular resource in the First Class classroom.
(.pdf file 52KB)
This resource has been made available to Seomra Ranga with the kind permission of the O' Brien Press. (www.obrien.ie/) O' Brien Press retains the copyright of the resource.