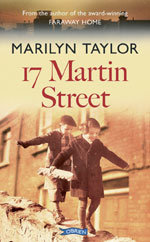 When Hetty's family move to Martin Street near Portobello bridge in Dublin, they're not sure of their welcome. And next door, Ben's family are not sure about their new Jewish neighbours: it's The Emergency and they are suspicious of strangers. But for Ben, the chance to earn a few pence is too great and secretly he does odd jobs for them. And there's a bigger secret: Renata, a World War Two refugee, is on the run in the city. Hetty is determined to rescue her. The web of secrets begins to unravel and there are lives at risk. Can Hetty and Ben overcome their differences and save Renata, or are they just meddling in things they know too little about?
This book by Marilyn Taylor is aimed at pupils in senior classes. This document for the teacher contains suggestions on how to use the book as a cross-curricular resource in the Fifth Class classroom.
(.pdf file 108KB)
This resources has been made available to Seomra Ranga with the kind permission of the O' Brien Press. (www.obrien.ie/) O' Brien Press retains the copyright of the resource.